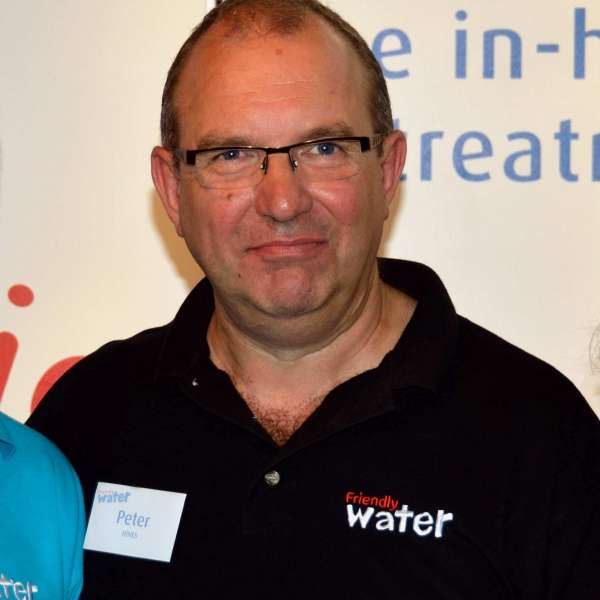 Peter entered into the world of plumbing over 33 years ago and has a wealth of qualified experience in this field and especially the Water Treatment Industry. Trade specialists, customers and prospective customers enjoy dealing with Peter due to this experience and expertise developed out a passion for plumbing and engineering.
Having qualified in plumbing and served his apprenticeship, Peter joined Aqua-Dial as an engineer and installer in 1984. Aqua-Dial, a water treatment manufacturing company, specialised in water softeners, scale reduction, polyphosphate water treatment, reverse osmosis, filtration, purification and electronic scale reduction. Having demonstrated his ability to learn and develop knowledge in these areas, by 1989 Peter became Commercial Director and part owner. Aqua-Dial continued developing it's products and business eventually becoming part of Culligan International at the end of the 90's.
Peter then made the transition to Kinetico UK Ltd. (now Harvey Softeners) as the Retail Sales Manager leaving one year later to become UK Managing Director at EcoWater in 2001. Suffice to say Peter Hines knows his stuff, just have a look at some (not all) of his credentials:
City & Guilds Plumbing Craft – 3 Distinctions – 1982
City & Guilds Advanced Craft & Plumbing – Silver Medal Award
City & Guilds Advanced Craft – 5 Distinctions
Barking Grohe School of Plumbing City & Guilds in Unvented Mains fed Water Systems – Distinction
Institute of Plumbing – Bronze Medal Award– 1984
Institute of Plumbing OSMA Award – 1985
Freeman of the Worshipful Company of Plumbers – 1985
Joint Industry Board (JIB) certified registered member– 1985
Freeman of the Worshipful Company of Plumbers – Runner Up of student Gold Medal – 1985
Chartered Institute of Plumbing and Heating Engineering (CIPHE) certified registered member
Ask Your Question
Thank You!
Thank you for your question. We will reply here shortly.
---
Previous Questions
Q:
My son has an allergy to softened water and we have recently put a water softener into our house. Is there anything that can be put in the shower head to reverse the effects so that he can have a shower PLEASE.
Andrea Rose
Q:
Hi, We have installed Harvey softener as well as filter for drinkable water in our house, We would like to know if the sodium level be too high or it has been filtered in the case of drinkable water. Cheers. Best Mike
Daniel
Q:
I have a Prismertec 1000i water softner (rather old). How much softened water should it produce in total between regenerations (assuming 300ppm hardness)?
Paul
Q:
How can I tell if my outside tap that I use to water my plants has been connected to my water softener
Jane Harvey
Q:
I have a 10 year old plus non electric Kintetico block water softener, the water level without the blocks should be about 1inch deep, however the level remains perhaps 8-9" deep. I have regenerated the system but no help, the salt blocks do completely dissolve so it appears to be working but with the water level so high I struggle to put two new block in as it very nearly floods over, due to water displacement. Any idea's. ? Can I fix it with the correct parts if so what do I need, do I call an engineer, or do I replace it. Given it is over a £1000 to replace my hope is that I can do a repair.
Stephen HALL
A:
The cause of salt tank overfill on the Kinetico is likely to be a leak of some description. The culprit may be easily changed and inexpensive or something more serious. In my opinion, given the facts available, an engineer visit is the best course of action. Please contact us on: 01932 245 200 or at: [email protected] Kind regards.
Answered by Peter Hines
Q:
Hi there, I am a EU citizen who just moved to Belfast, UK. As I have a kidney disease (distal tubular acidosis and uric acid kidney stones) I was wondering what bottled water suits me the best. I still haven't build up enough credit to be able to afford to buy a RO filter.
A:
If what you are looking for is a low mineral content water due to your condition then all bottled water will have this information on the packaging. Typically it will state the "dry residue at 180°C" this is a measure of purity. Therefore the lower the number the cleaner the water. RO filtered water will typically be between 15 and 40mg/l good bottled water around 100mg/l. I hope this helps.
Answered by Peter Hines
Q:
Hi, i need buy a kind of filter to be attached to shower. I have face problems because the hard water
Erik
A:
Unfortunately there are no effective hard water filters capable of producing enough flow or capacity to cope with a shower. I'm afraid you need to consider softening the whole system using a salt regenerated ion exchange water softener.
Answered by Peter Hines
Q:
I am having a new kitchen installed and thinking of buying a water softener, require general advice as to which one!
Sue Kristoffersen
A:
Please contact us via the website so that we can understand your particular application before making any recommendations. The factors which impact on softener selection are, plumbing system type, family size, water hardness, space available, plumbing layout and of course budget. I hope this helps.
Answered by Peter Hines
Q:
Hi. We live in a hard-water area (Gloucestershire), and our boiler installer has recommended that we get a softener (the Hague 7180). I don't really have any feel for how often the salt will need to be topped up. Is a 25kg bag likely to last for a week, or a month, or 6 months... We have tried a test-strip and it showed 425ppm. If the salt use is high, can the unit be run to use less salt, and produce nearly-soft water, rather than using lots of salt to produce very soft water? Thanks Dave
Dave Nutter
A:
With the Hague 7180 your salt usage will be very low compared to other alternatives. At your water hardness I would anticipate you needing approximately 1 x 25kg bag for 2 months based on a family of 4 and average water use. It is possible on the Hague unit also to blend the water but generally speaking we would not recommend this as you quickly loose many of the benefits of the softened water once even a little hard water is mixed in.
Answered by Peter Hines
Q:
How do I alter my clock setting on a Harvey kinetic old style black dial now coming on at2 pm not am
Derek roberts
A:
f what you have is a Harvey electric water softener the timer is a standard plug in timer similar to one you might use to switch on a lamp when you are not home. You basically need to set the current time of day correctly.
If on the other hand you have a Harvey "Kinetico copy" unit there is no timer so you cannot adjust this.
Please send a picture to the
[email protected]
if you need further advice
Answered by Peter Hines
Q:
I have had water softner installed 1 month ago and now I am having an urticarial skin problem . I am allergic to nitrites in bacon. could the two be related?
Dr Pradip Rana
A:
I honestly don't know but the most likely source of impurities could be the salt you are using. I would recommend a PDV Pure Dried Vacuum salt based product for you and not an evaporated solar salt.
I can advise which you current source is if you send a picture of the packaging to [email protected]
Answered by Peter Hines
Q:
Hi - Where can the softners be located?
Matt Price
A:
Softeners are generally located as close as is practicable to the incoming mains water supply. However this will vary depending on the available space and the plumbing layout.
The best way to get this advice for you particular application is to take advantage of our free survey and quotation service by hitting the "Arrange a Visit" button on the website.
Alternatively just call during office hours on 01932 245200
Answered by Peter Hines
Q:
Hi, can you recommend a small compact combi boiler or brand that is fully recommended for soft water houses?
AB
A:
Yes Vaillant or Intergas are both excellent Combi boilers suitable for all types of domestic water.
Answered by Peter Hines
Q:
Hi, the stopcock from our rising main is on an internal wall in the hallway and not easily connectable to the kitchen sink and waste etc (we dont want to dig up the floor). Does this mean that we cannot have a water softener unit installed? Can the stopcock be relocated by a plumber? Would appreciate your advice, thanks
Rebecca, W-o-T
A:
​In complicated situations like this, we always recommed that a survey is undertaken. However, the waste from the water softener can often be fished under floors or run up to a point where waste is available. In the case of the drinking water, we often fit a purifier/filter that will remove all the sodium the water softener has added, thereby giving the best quality drinking water available.
Answered by Carl Coleman
Q:
Can a Hague Maximiser be fitted in a cabinet outside the house, assuming all external mains power regulations are met?
Robert B
A:
Yes, absolutely, we fit many water softeners in frost protection outside cabinets. Indeed, we have a premade timber cabinet, made for these purposes, the cost is £80.
Answered by Carl Coleman
Q:
can garden tap be connected to softened water
Del
A:
Yes, absolutely, however, you can use the bypass valve at the water softener to enable hard water if necessary.
Answered by Carl Coleman
Q:
Dear Sirs Dera Sirs We have had a water softner purchased from yourselves, for a number of years and have had no problems at all....but today it is making a strange sound and the salt despenser is full of water and seems to be filling up constantly ? ( Regen Aqua Dial - Prismertec Water Softner ) There is also an 'ERR' message on the reader. Could you please advise if it would now be faulty or there is a simple solution, like a blockage, filter problem etc ? Thanks and Regards
Russ Williams ( Hurst Road )
Q:
Good Morning, we have 3 rental properties with combi boilers - glow-worm, baxi and a vailliant. the properties are in very hard water areas (Hook, Hampshire) and we are looking for water softeners to prolong the life of these boilers, bearing in mind we are reliant on tenants attending to the salt. what is the best easiest and cheapest solution for us please - and do you do supply re-conditioned ones at all many thanks for your help
Jennifer
A:
Hi Jennifer,
What we normally do in this situation is to do site surveys and discuss with you all options available. One solution that might suit is that it maybe possible to put the water softeners outside in a suitable frost protection cabinet. This will depend on the water mains location within the property, this would enable salt top up without having to gain access to the property. Larger and more efficient equipment will also reduce the need for salt top up although typically this type of equipment will not normally be the cheapest in initial cost but whole of life cost will be lower, please call our head office on 01932245200if you would like to arrange a survey.
Kind Regards
Peter
Answered by Peter Hines
Q:
You installed a Hague 400 Maximiser in July. Should I have altered a time clock for the end of Summer Time? Last night's regeneration process was very loud in the hour from midnight to 1am with the actual backwash etc happening at 1am. A bath was run at 11.20pm would this have affected it in some way?
Melvyn
A:
Hi Melvyn,
Yes of course you change the timings, this can be under settings or please refer to your customer manual for assistance. This will change the regeneration time until 2am. The bath being run should not have had any impact on the sound or backwash and will just be coincidence. The noise level is not normally obtrusive and if it is it may be worth considering a Pressure limiting valve. This will reduce noise and reduce wear and tear from water pressure.
Kind Regards
Peter
Answered by Peter Hines
Q:
We purchased our house with a water softener and filter already installed which you maintain for us. I just have a few questions though. 1) My baby recently started taking some formula milk. Infant formula milk powder states it should not be made up with artificially softened water. Does my filtered water come directly from the mains or following the softener? If the latter - can it be used to make up infant formula? 2) Does the softening and filtration process remove fluoride from the tap water? Many thanks Emma
Emma
A:
Afternoon Emma,
Softening the water in all except the very hardest waters in the UK, for example some areas of Suffolk, will result in water that is considered "wholesome", and which meets the European standards for drinking water.
The threshold of sodium in water is set at 200mg per litre. Should a water supply company such as Thames Water decide to soften the water at source using an Ion exchange, sodium regenerated water softener then the resulting water would also be safe and "wholesome", as defined by the World Health Organisation. If your baby feed manufacturer is calling for a standard of water higher than the legislation then I am afraid you will need to ask them for further advice.
The filtered water in your home would normally be supplied from either a Hard water supply or alternatively may be softened water which has subsequently been purified. For clarification on which system you have please call us on 01932 245200 and we will check your records to determine which system you have.
Regards
Peter
Answered by Peter Hines