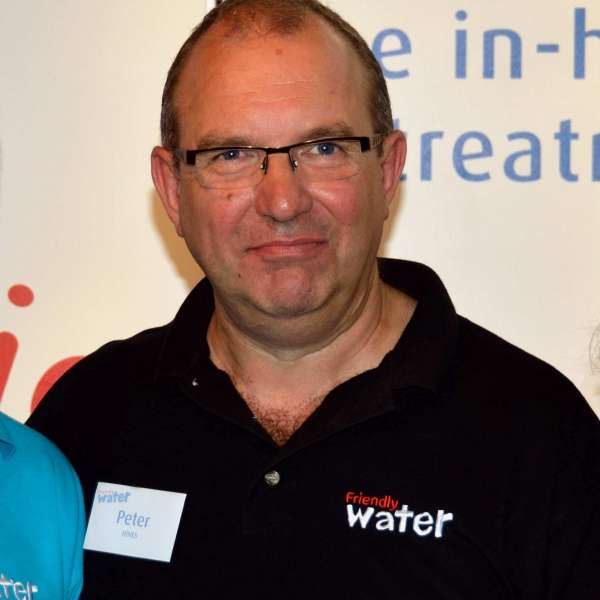 Peter entered into the world of plumbing over 33 years ago and has a wealth of qualified experience in this field and especially the Water Treatment Industry. Trade specialists, customers and prospective customers enjoy dealing with Peter due to this experience and expertise developed out a passion for plumbing and engineering.
Having qualified in plumbing and served his apprenticeship, Peter joined Aqua-Dial as an engineer and installer in 1984. Aqua-Dial, a water treatment manufacturing company, specialised in water softeners, scale reduction, polyphosphate water treatment, reverse osmosis, filtration, purification and electronic scale reduction. Having demonstrated his ability to learn and develop knowledge in these areas, by 1989 Peter became Commercial Director and part owner. Aqua-Dial continued developing it's products and business eventually becoming part of Culligan International at the end of the 90's.
Peter then made the transition to Kinetico UK Ltd. (now Harvey Softeners) as the Retail Sales Manager leaving one year later to become UK Managing Director at EcoWater in 2001. Suffice to say Peter Hines knows his stuff, just have a look at some (not all) of his credentials:
City & Guilds Plumbing Craft – 3 Distinctions – 1982
City & Guilds Advanced Craft & Plumbing – Silver Medal Award
City & Guilds Advanced Craft – 5 Distinctions
Barking Grohe School of Plumbing City & Guilds in Unvented Mains fed Water Systems – Distinction
Institute of Plumbing – Bronze Medal Award– 1984
Institute of Plumbing OSMA Award – 1985
Freeman of the Worshipful Company of Plumbers – 1985
Joint Industry Board (JIB) certified registered member– 1985
Freeman of the Worshipful Company of Plumbers – Runner Up of student Gold Medal – 1985
Chartered Institute of Plumbing and Heating Engineering (CIPHE) certified registered member
Ask Your Question
Thank You!
Thank you for your question. We will reply here shortly.
---
Previous Questions
Q:
I have an aqua dial domestic water softener. It is flowing non stop so has been isolated. it is probably 20+ years old. Is it worth repairing or should I buy a new one. regards Rick
Rick Craft
Q:
I have had an email exchange with your Michelle Maunders regarding a visit from one of your service engineers that won't seriously wrong. Despite a reminder I can't get her to respond. If you can provide me with your email, I can send you details.
Alan Kinsella
Q:
i have a tapworks water softener installed for my home. can I use this water to make teas and coffees? is it safe to use it for cooking too?
pearl selvadurai
Q:
I have a Hague Maximizer 410 water softeners which was installed by Friendly Water and has been really good but I woke up this morning to a beeping and I it says Home not found and I just keeps beeping. What can I do
Pauline Moore 11 Moorhens Fleet GU51 5BU and email is [email protected]
Q:
Hi..Hague water softener..Millgate development Sundridge Park Bromley..Water softener suddenly making lond noise..and sounding like doing a regen..but keypad not saying so..said regen timed..also after litres and flow rate it said pause..on advice of plumber we have bypassed water softener and turned it off..what could it be and when can you come out..Thank you Mark
Mark Brooks
Q:
Can I use softened water in my heating system i.e. in the radiators or should this just be mains water
Mrs Helen Lawry
Q:
My automatic Harvey Water softener is using too much salt and the brine tank water level is too high. Can you instruct me on adjusting the brine valve please? What governs the water level?
Matthew
Q:
Can I replace the 2 filters in my ro system with 2 , 10 inch OBE Doulton ceramic filters
Stephen Coleman
Q:
Hello Peter & Carl. I am hoping you can help. We recently installed a Harvey water softner, more than two months ago. My skin is not reacting well to the Harvey salt blocks. My head is very itchy and the skin on my hands are starting to peel off in patches. I put it down to the soap I was using and so I changes to a very pure product that has no parabens and SLS. Sadly it hasn't solved the problem and so I'm thinking perhaps I could change the brand of block salt I use? It would be amazing if you could advice me as I can see other people have been writing in with the same problem. Kind regards Angela
Angela
Q:
Could you please advise the difference between a water softener and an aquabion which seems to be a more advanced water conditioner?
Neel Chandarana
Q:
We have an Ideal boiler which is now broken, we are told that the heat exchanger has been damaged by the water softener. Help
Sarah
Q:
I have developed skin irritation following use of softened water. Do you know whether there are any "pure salt" block salts suitable for a Kinetico Premier Compact softener
Lisa Kalo
Q:
is it permissible to put a new block of salt on top of the partly dissolved existing block, to be sure not to revert to hard water?
michael
A:
Yes, in fact it is necessary to ensure continued softened water.
Answered by Peter Hines
Q:
My son has an allergy to softened water and we have recently put a water softener into our house. Is there anything that can be put in the shower head to reverse the effects so that he can have a shower PLEASE.
Andrea Rose
A:
Hi Andrea
I am afraid this is not something I have heard of. Generally softened water helps with dry and sensitive skin. It is possible that you son is reacting to something else in the water (perhaps copper if the plumbing system is new) but a specialist would need to advise you. It is possible to filter shower heads at the point of use to remove residual chlorine which may help.
Sorry I can't be more helpful
Answered by Peter Hines
Q:
Hi, We have installed Harvey softener as well as filter for drinkable water in our house, We would like to know if the sodium level be too high or it has been filtered in the case of drinkable water. Cheers. Best Mike
Daniel
A:
Hi
Unless the feed water hardness is in excess of 440ppm then your soft water should be perfectly drinkable. Some filter systems (Reverse Osmosis) will remove most if not all of the sodium that the softening process adds but this will depend on what is installed
Answered by Peter Hines
Q:
I have a Prismertec 1000i water softner (rather old). How much softened water should it produce in total between regenerations (assuming 300ppm hardness)?
Paul
A:
The Prismertec produced 1360 litres at the lower (more efficient) setting and 1700 Litres at the higher setting. These are the figures when new so you should expect to be a little less optimistic as the softener ages.
Answered by Peter Hines
Q:
How can I tell if my outside tap that I use to water my plants has been connected to my water softener
Jane Harvey
A:
No, but if you shut the inlet valve to your water softener and the outside tap still runs then the chances are that the outside tap is not connected to the water softener. If it stops then it is connected.
Answered by Peter Hines
Q:
I have a 10 year old plus non electric Kintetico block water softener, the water level without the blocks should be about 1inch deep, however the level remains perhaps 8-9" deep. I have regenerated the system but no help, the salt blocks do completely dissolve so it appears to be working but with the water level so high I struggle to put two new block in as it very nearly floods over, due to water displacement. Any idea's. ? Can I fix it with the correct parts if so what do I need, do I call an engineer, or do I replace it. Given it is over a £1000 to replace my hope is that I can do a repair.
Stephen HALL
A:
The cause of salt tank overfill on the Kinetico is likely to be a leak of some description. The culprit may be easily changed and inexpensive or something more serious. In my opinion, given the facts available, an engineer visit is the best course of action. Please contact us on: 01932 245 200 or at: [email protected] Kind regards.
Answered by Peter Hines
Q:
Hi there, I am a EU citizen who just moved to Belfast, UK. As I have a kidney disease (distal tubular acidosis and uric acid kidney stones) I was wondering what bottled water suits me the best. I still haven't build up enough credit to be able to afford to buy a RO filter.
A:
If what you are looking for is a low mineral content water due to your condition then all bottled water will have this information on the packaging. Typically it will state the "dry residue at 180°C" this is a measure of purity. Therefore the lower the number the cleaner the water. RO filtered water will typically be between 15 and 40mg/l good bottled water around 100mg/l. I hope this helps.
Answered by Peter Hines
Q:
Hi, i need buy a kind of filter to be attached to shower. I have face problems because the hard water
Erik
A:
Unfortunately there are no effective hard water filters capable of producing enough flow or capacity to cope with a shower. I'm afraid you need to consider softening the whole system using a salt regenerated ion exchange water softener.
Answered by Peter Hines