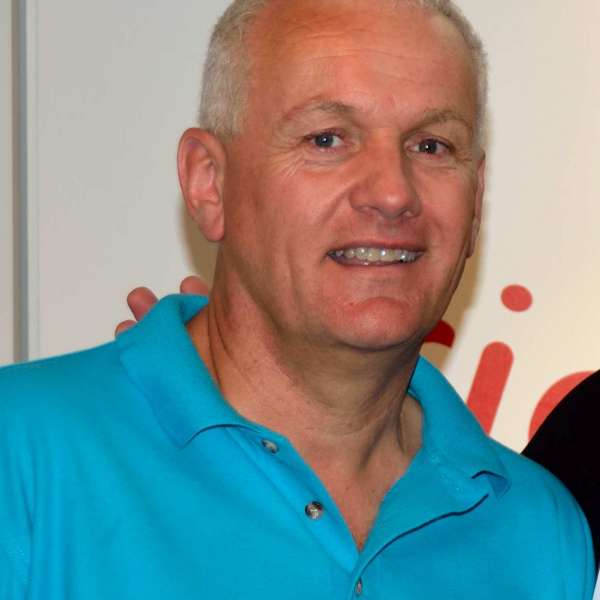 Carl joined the Family construction business from school and having served his apprenticeship went on to study construction management & design at Richmond College in Surrey. Having been active in the construction industry since 1977 his wealth of experience combined with Peter's makes a staggering figure of 67 years in the building ,plumbing and plumbing supplies industry. Although Carl is a fully qualified service technician and engineer, he is also very customer centric and committed to offering the best in customer service.
Carl's journey through the Water Treatment world really started in 1990. Having worked as a Project & Site Manager for the family business for many years he felt it was time he flexed his muscles in the Water Softener Industry. He joined Aqua-Dial and within 2 years was promoted to UK Sales Manager. Carl then moved to Culligan Household Products Division as UK Sales Manager in 1997 (at this time Culligan was the parent company behind many household brands of water softeners including Waterside, Aqua-Dial, Liff and Permutit). Moving on to become UK Sales Manager for EcoWater in 2001. Whereupon he and Peter, after a couple of years of thought and further research, created Friendly Water in 2003. 10 years later they are still building and developing the flourishing business that is Friendly Water focusing on listening to their customers, providing independent, unbiased advice, solutions and excellent after sales care.
Kinetico Regional Dealership of the Year - 2007
Trading Standards Approval Certificate Surrey County Council, Buy With Confidence - 2007
Kinetico Regional Dealership of the Year 2008 Friendly Water
Franke Premier Service Scheme Member since - 2008
Checkatrade Members since 2005
Engineering Council UK Member – 2009
Industrial Associate CIPHE
Ask Your Question
Thank You!
Thank you for your question. We will reply here shortly.
---
Previous Questions
Q:
My automatic Harvey Water softener is using too much salt and the brine tank water level is too high. Can you instruct me on adjusting the brine valve please? What governs the water level?
Matthew
Q:
Can I replace the 2 filters in my ro system with 2 , 10 inch OBE Doulton ceramic filters
Stephen Coleman
Q:
Hello Peter & Carl. I am hoping you can help. We recently installed a Harvey water softner, more than two months ago. My skin is not reacting well to the Harvey salt blocks. My head is very itchy and the skin on my hands are starting to peel off in patches. I put it down to the soap I was using and so I changes to a very pure product that has no parabens and SLS. Sadly it hasn't solved the problem and so I'm thinking perhaps I could change the brand of block salt I use? It would be amazing if you could advice me as I can see other people have been writing in with the same problem. Kind regards Angela
Angela
Q:
Could you please advise the difference between a water softener and an aquabion which seems to be a more advanced water conditioner?
Neel Chandarana
Q:
We have an Ideal boiler which is now broken, we are told that the heat exchanger has been damaged by the water softener. Help
Sarah
Q:
I have developed skin irritation following use of softened water. Do you know whether there are any "pure salt" block salts suitable for a Kinetico Premier Compact softener
Lisa Kalo
Q:
is it permissible to put a new block of salt on top of the partly dissolved existing block, to be sure not to revert to hard water?
michael
A:
Yes, in fact it is necessary to ensure continued softened water.
Answered by Peter Hines
Q:
My son has an allergy to softened water and we have recently put a water softener into our house. Is there anything that can be put in the shower head to reverse the effects so that he can have a shower PLEASE.
Andrea Rose
A:
Hi Andrea
I am afraid this is not something I have heard of. Generally softened water helps with dry and sensitive skin. It is possible that you son is reacting to something else in the water (perhaps copper if the plumbing system is new) but a specialist would need to advise you. It is possible to filter shower heads at the point of use to remove residual chlorine which may help.
Sorry I can't be more helpful
Answered by Peter Hines
Q:
Hi, We have installed Harvey softener as well as filter for drinkable water in our house, We would like to know if the sodium level be too high or it has been filtered in the case of drinkable water. Cheers. Best Mike
Daniel
A:
Hi
Unless the feed water hardness is in excess of 440ppm then your soft water should be perfectly drinkable. Some filter systems (Reverse Osmosis) will remove most if not all of the sodium that the softening process adds but this will depend on what is installed
Answered by Peter Hines
Q:
I have a Prismertec 1000i water softner (rather old). How much softened water should it produce in total between regenerations (assuming 300ppm hardness)?
Paul
A:
The Prismertec produced 1360 litres at the lower (more efficient) setting and 1700 Litres at the higher setting. These are the figures when new so you should expect to be a little less optimistic as the softener ages.
Answered by Peter Hines
Q:
How can I tell if my outside tap that I use to water my plants has been connected to my water softener
Jane Harvey
A:
No, but if you shut the inlet valve to your water softener and the outside tap still runs then the chances are that the outside tap is not connected to the water softener. If it stops then it is connected.
Answered by Peter Hines
Q:
I have a 10 year old plus non electric Kintetico block water softener, the water level without the blocks should be about 1inch deep, however the level remains perhaps 8-9" deep. I have regenerated the system but no help, the salt blocks do completely dissolve so it appears to be working but with the water level so high I struggle to put two new block in as it very nearly floods over, due to water displacement. Any idea's. ? Can I fix it with the correct parts if so what do I need, do I call an engineer, or do I replace it. Given it is over a £1000 to replace my hope is that I can do a repair.
Stephen HALL
A:
The cause of salt tank overfill on the Kinetico is likely to be a leak of some description. The culprit may be easily changed and inexpensive or something more serious. In my opinion, given the facts available, an engineer visit is the best course of action. Please contact us on: 01932 245 200 or at: [email protected] Kind regards.
Answered by Peter Hines
Q:
Hi there, I am a EU citizen who just moved to Belfast, UK. As I have a kidney disease (distal tubular acidosis and uric acid kidney stones) I was wondering what bottled water suits me the best. I still haven't build up enough credit to be able to afford to buy a RO filter.
A:
If what you are looking for is a low mineral content water due to your condition then all bottled water will have this information on the packaging. Typically it will state the "dry residue at 180°C" this is a measure of purity. Therefore the lower the number the cleaner the water. RO filtered water will typically be between 15 and 40mg/l good bottled water around 100mg/l. I hope this helps.
Answered by Peter Hines
Q:
Hi, i need buy a kind of filter to be attached to shower. I have face problems because the hard water
Erik
A:
Unfortunately there are no effective hard water filters capable of producing enough flow or capacity to cope with a shower. I'm afraid you need to consider softening the whole system using a salt regenerated ion exchange water softener.
Answered by Peter Hines
Q:
I am having a new kitchen installed and thinking of buying a water softener, require general advice as to which one!
Sue Kristoffersen
A:
Please contact us via the website so that we can understand your particular application before making any recommendations. The factors which impact on softener selection are, plumbing system type, family size, water hardness, space available, plumbing layout and of course budget. I hope this helps.
Answered by Peter Hines
Q:
Hi. We live in a hard-water area (Gloucestershire), and our boiler installer has recommended that we get a softener (the Hague 7180). I don't really have any feel for how often the salt will need to be topped up. Is a 25kg bag likely to last for a week, or a month, or 6 months... We have tried a test-strip and it showed 425ppm. If the salt use is high, can the unit be run to use less salt, and produce nearly-soft water, rather than using lots of salt to produce very soft water? Thanks Dave
Dave Nutter
A:
With the Hague 7180 your salt usage will be very low compared to other alternatives. At your water hardness I would anticipate you needing approximately 1 x 25kg bag for 2 months based on a family of 4 and average water use. It is possible on the Hague unit also to blend the water but generally speaking we would not recommend this as you quickly loose many of the benefits of the softened water once even a little hard water is mixed in.
Answered by Peter Hines
Q:
How do I alter my clock setting on a Harvey kinetic old style black dial now coming on at2 pm not am
Derek roberts
A:
f what you have is a Harvey electric water softener the timer is a standard plug in timer similar to one you might use to switch on a lamp when you are not home. You basically need to set the current time of day correctly.
If on the other hand you have a Harvey "Kinetico copy" unit there is no timer so you cannot adjust this.
Please send a picture to the
[email protected]
if you need further advice
Answered by Peter Hines
Q:
I have had water softner installed 1 month ago and now I am having an urticarial skin problem . I am allergic to nitrites in bacon. could the two be related?
Dr Pradip Rana
A:
I honestly don't know but the most likely source of impurities could be the salt you are using. I would recommend a PDV Pure Dried Vacuum salt based product for you and not an evaporated solar salt.
I can advise which you current source is if you send a picture of the packaging to [email protected]
Answered by Peter Hines
Q:
Hi - Where can the softners be located?
Matt Price
A:
Softeners are generally located as close as is practicable to the incoming mains water supply. However this will vary depending on the available space and the plumbing layout.
The best way to get this advice for you particular application is to take advantage of our free survey and quotation service by hitting the "Arrange a Visit" button on the website.
Alternatively just call during office hours on 01932 245200
Answered by Peter Hines